I have been training with Aaron for about 1 year, and he has been supporting my partner and I with our fitness program. I would recommend Aaron to friends and colleagues. He has helped reduce and manage pain from previous injuries and improve my overall fitness and strength.
Ryan
I have been training with Aaron for a good while now and though I have had my ups and downs and stop – started he has always been professional, knowledgeable, consistently believed in me, supported me where I need it, made me accountable and pushed me to my limits. He has always made me feel comfortable in his presence and helped me strive to be the best version of me that just keeps getting better and stronger. My current goal is abs. A year ago I would have never thought it possible but they're there. Thank you for making me believe in myself, for making me feel like I'm going to die in sessions (hehe), and for delivering results instead of just talking about them!
Jess
Aaron is honest and forthright, and knows how to get the best out of all of his clients. He is also very good at know which is the best exercise to do for each person. I would highly recommend him
Simon
I have been training with Aaron for several years, initially for weight loss and neck shoulder pain relating to whiplash & desk work. I met my goal weight & reduced my chronic pain in about 2-3 months. After having a break from training for 6 months I was diagnosed with adrenal fatigue & gained a lot of weight. Since commencing training again with Aaron I've lost 7kgs, increased my strength, mobility and energy levels. I highly recommend Aaron and never miss a training session with him as it has changed my life."
Sandra
There is a reason why I have Aaron named "The Killer" in my phone book: I leave my sessions feeling like I'm about to die, but the results I have achieved through these sessions are the reason why I keep on going back for more! Aaron is extremely supportive, and challenges you to push your own limits.
Mo
Natasha, a mother of 4, started her training towards the end of January 2016. Since then, she has trained hard 2 – 3 times per week, and eaten as recommended, and between the 2 pictures, she has lost close to 25kg!
Natasha
What to expect with us...
Are you looking to make a start (or restart!) to your health and fitness resolutions, but don't know where to begin?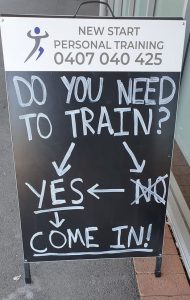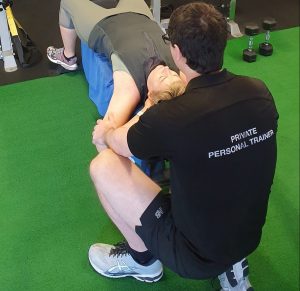 One on One & One on Two
Personal Training
Our Personal Training sessions are tailored to be unique to every person, available for 1 hour, 45 minute or 30 minute appointments.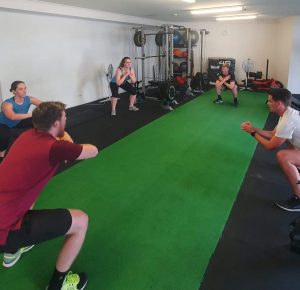 45 Minute Sessions
Group Training
Not sure about Personal Training, but got your mind set on what you want out of your health and fitness? Why not give group training a go!