Claim your 100% Free
Personal Training Session
Go 1-on-1 with one of Bowen Hill's top personal trainers at our private studio on Brookes Street!
Enter you details to get your FREE personal training session
🔒 Your Details Are Secure
We will only use these details to contact you about scheduling your PT session
Real Clients. Real Results.
Over 50 5-Star reviews on Google…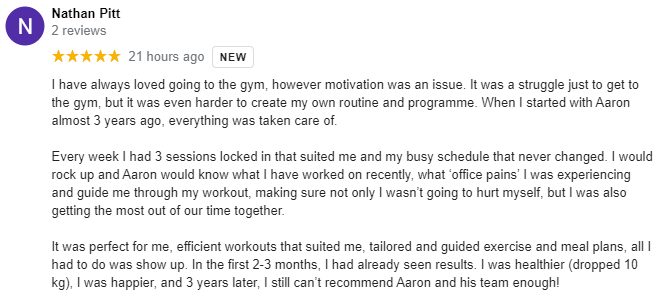 Pushes you to success, awesome support & advice, more than just a PT
What a guy. Aaron is not only an incredible, motivating PT who pushes you to success, provides you with awesome support and advice, and progresses your fitness journey. He is also a top bloke, happy to have a laugh with you, ask about your day and give you much more than just strength of body. I've been seeing Aaron for 2 years now, and I've never been disappointed with a session. 20/10.
– Rose C ⭐⭐⭐⭐⭐
I am now healthier and happier than I have ever been
I have always loved going to the gym, however motivation was an issue. It was a struggle just to get to the gym, but it was even harder to create my own routine and programme. When I started with Aaron almost 3 years ago, everything was taken care of.
Every week I had 3 sessions locked in that suited me and my busy schedule that never changed. I would rock up and Aaron would know what I have worked on recently, what 'office pains' I was experiencing and guide me through my workout, making sure not only I wasn't going to hurt myself, but I was also getting the most out of our time together.
It was perfect for me, efficient workouts that suited me, tailored and guided exercise and meal plans, all I had to do was show up. In the first 2-3 months, I had already seen results. I was healthier (dropped 10 kg), I was happier, and 3 years later, I still can't recommend Aaron and his team enough!
– Nathan P ⭐⭐⭐⭐⭐
Practical, no BS coaches that truly engage with you and your workout
Aaron and the team are a great set of practical, no BS (and very tolerant :)) coaches that truly engage with you during your workouts to help you get the most from your sessions. There's heaps I've learnt from Aaron on nutrition, daily habits, and overall fitness that has added real value to my fitness journey. Great return on investment overall!
– Haris K ⭐⭐⭐⭐⭐
Easy to follow & tailored for my fitness level and lifestyle
Recently joined the 8 week challenge with new start PT, and am loving it. They make it so easy to follow a diet and exercise program thats tailored for me and my fitness level and lifestyle. Two weeks in and I'm already seeing results!
– Taylor G ⭐⭐⭐⭐⭐
Never liked exercise, but I love training with these guys!
I have been seeing Aaron for almost a year and the results have been amazing. He's managed to motivate me (someone who has never liked exercise) to actually look forward to going to the gym! I've achieved results that I never imagined I'd be able to achieve. I couldn't be happier and 100% recommend Aaron to anyone looking for a great trainer who can push you to achieve your goals!
– Dave C ⭐⭐⭐⭐⭐
They help you achieve what you set your mind to!
I have been going to New Start PT for about 4 months now and I can 100% say that it was the right choice for me. I have never been one for going to gym, as a lot of them would be overwhelming or I had no motivation to go, but the process at New Start PT was quick, easy and I rewarding!
After sending a message online, I got a call from Aaron within 24 hours. We went over what I'm looking for in my health and fitness and gave me a Trainer and program to fit with what I would like from my experience!
Aaron thought MJ would be perfect for me and she has been amazing, is incredibly motivational and feels like a real human to train with, not just an instructor! She has taught me so much about Heath, callisthenics and strength in such a short time!
If you are looking at getting back into fitness or even just starting for the first time like me. Definitely give these guys a go. They answer any questions you have and are really positive with helping you achieve what you set your mind too!
– Matt N ⭐⭐⭐⭐⭐